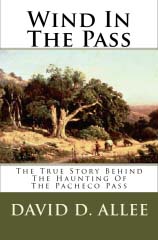 WIND IN THE PASS: The True Story behind the Haunting of the Pacheco Pass

An ancient prophecy - a love denied - a haunting which has lasted nearly 200 years. This compelling historical novel reveals the untold saga of a small California Indian tribe fighting for their survival during the summer of 1815. The protagonist, a young Yokut warrior named Kul-kit, murders a priest and orchestrates a rebellion against the Mission San Juan Bautista. A long- prophesied battle follows; Kul-kit and his betrothed are eternally separated, their love for one another denied. Spanish soldiers from the San Francisco Presidio annihilate the little tribe. The terror and blood-letting which results from that massacre leaves an indelible mark upon the terrain of the Pacheco Pass, a haunting which remains to this day. The story, once read, also explains the cause of the paranormal activity surrounding California's State Route 152 - in particular, the Pacheco Pass section of that highway. The Pacheco Pass has been the source of numerous reported instances of paranormal activity, prompting exposés by the SciFi Channel's Sightings and the Travel Channel's Haunted Travels.

---
All Novels Available for purchase through the following two venues:
My publisher - CreateSpace! Click on the book above to purchase direct from CreateSpace
Click on the logo to purchase direct from Amazon.com
Wind In The Pass can also be purchased "off-the-shelf" from the Preferred Vendors below:
Now Also Available on the Kindle and Kindle Fire!